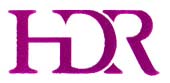 April 24, 1991
To Whom It May Concern:
Our company undertook a major office move this month which involved not only the moving of furniture but also reconfiguration of furniture in our open areas.
QSI handled this major task with relative ease doing an overall excellent job. They were highly organized, extremely competent and completed the move in the time specified. Terry Quincy and his staff of hard working individuals were very courteous and helpful. When a work area needed to be changed, Terry and his staff were more than glad to reconfigure that area according to our needs.
Any move can be difficult, but with the competence and ease exhibited by the people at QSI, a calming effect was created for a potentially stressful situation.
Our company would highly recommend QSI and we would not hesitate in using their services again for future office moves.
Very truly yours,
H.D.R. ENGINEERING, INC.
William R. Hindman
Senior Vice President